16 Jun

Naim to Demo NAIT 50 in the Acoustica room at the North West Audio Show!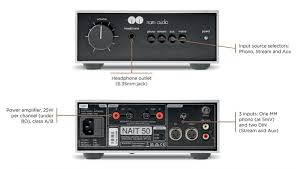 We are delighted to announce that Naim will be demonstrating the new NAIT 50 Integrated Amplifier in the Acoustica Room at the North West Audio Show this weekend, Sat 17th – Sun 18th June.  
NAIT 50 is the worthy successor of NAIT 1, Naim's integrated amplifier released in 1983. 
Every part of the NAIT 50 has been redesigned. It is a 'big box' audiophile Naim integrated in a small box. Some of the new features on this anniversary edition include the new discrete transistor headphone amplifier found in the New Classic series, so you can enjoy all types of listening. Behind its sleek design, NAIT 50 also delivers top-notch sound quality.
Please pop in and see us and get a chance to listen to this wonderful amplifier.
Feel free to  contact us if you have any questions.