16 Jan

Chord ChorAlloy Connector Gives Significant Boost!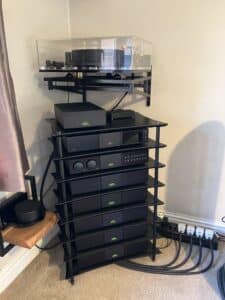 Over recent months I have upgraded all interconnects and  power leads on my Naim 252DR/300DR based system to Chord Signature. The system includes Michell Orbe Turntable with Naim Superline/SupercapDR and Naim ND555/PS555DR Streamer as sources. I love the sound and the full Chord Signature Loom really gets full value from the  252/300 combination. 
When Acoustica brought my attention to the latest Chord ChorAlloy Connectors now fitted to many of their cables I was doubtful. However, after an initial trial of the new Signature 5 pin to 5 pin DIN for the streamer I was impressed enough to upgrade the 4 pin XLR/DIN cables between the 252 and 300 and the 4 pin to 5 pin DIN for the Superline to 252.  This has, once again, given a step up in performance of the overall system. There seems more of everything with instruments better placed across the soundstage and a much more "dynamic" rendition of music.
For more information or to book a demonstration, please contact us.